ABOUT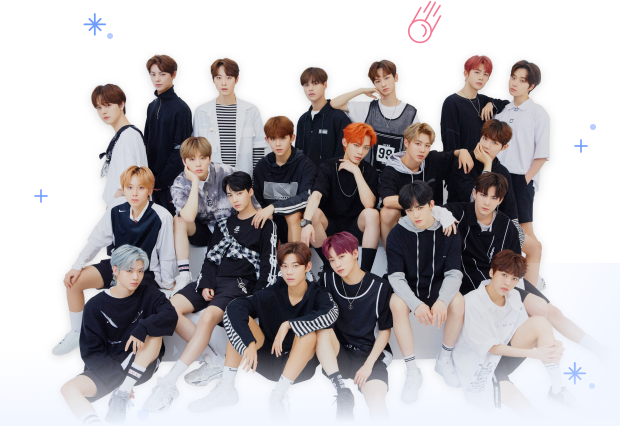 NOW INTRODUCING WORLD KLASS !
In the midst of K-POP's glory days, finally out of many typical existing audition programs! The <Global Audition Reality> begins with a new format!
Every episode, missions beyond imagination appear in front of 20 trainees dreaming of next-generation global idol! The trainees will perform their missions, not only dancing and singing, but also acting and performing! The story of those growing up as the all-rounder artists will be unveiled earnestly! Realistically!
70 days of campaign! Seoul-New York-Los Angeles, 20 trainees from 5 countries started to experience a true <World Klass>! From their first steps to the moment when they become <World Klass> idols active on the world stage! Are you ready to go on together?!
First episode October 4th, Friday 11PM (KST)
LIVE Every Friday 11PM (KST)
Don't miss the premium content only available on VLIVE, including World Klass trainees' stage direct cams, private cams, and surprise live broadcasts!
Introducing VLIVE X World Klass Supporters, World Klass Committee
What is most supportive for 20 trainees? It's your love and attention.
Each week, the evaluation results from the "World Klass Committee", chosen among VLIVE World Klass channel followers, are directly connected to the final member selection for debut.
Only the World Klass Committee can participate in the weekly review! Follow the VLIVE World Klass channel and get started today.
Criteria for choosing the final 10 members
World Klass Committee Evaluation
3 persons
+
Mission Evaluation + Expert Evaluation
3 persons
+
Final Live Evaluation
4 persons
Q How is a World Klass Committee chosen?
The World Klass Committee will be based on the VLIVE World Klass Channel activity record every Friday and will be chosen according to the Chemibeat ranking among VLIVE World Klass channel followers. (Ranking 1 to N,000)
Every week, the final World Klass Committee members will be chosen at the rate of 50:50 in Korea:Outside Korea, among the top N,000 channel Chemiebeat rankings.
The World Klass Committee is newly chosen for each episode! Stay active to participate every week.
Q How do I increase Chemibeat?
Chemibeat is VLIVE's unique activity index for each channel. World Klass Channel and my Chemibeat accumulates scores from the time you follow the channel and shows individual rankings every day.
You can consistently increase Chemibeat by visiting channels, playing videos and sharing!
Q How do the World Klass Committee evaluate?
1

At 00:00 every Saturday, the week's evaluation starts. (Saturday 00:00-Friday 00:00 (KST))

2

If you are chosen as a weekly World Klass Committee, you will receive a message to participate via VLIVE notification.

3

Each World Klass member receives 5 votes each day and can cast 30 votes over 6 days.

4

The evaluation results will be released weekly on the World Klass broadcast and VLIVE Special Page.